5 Ways digital signage can create a nicer office space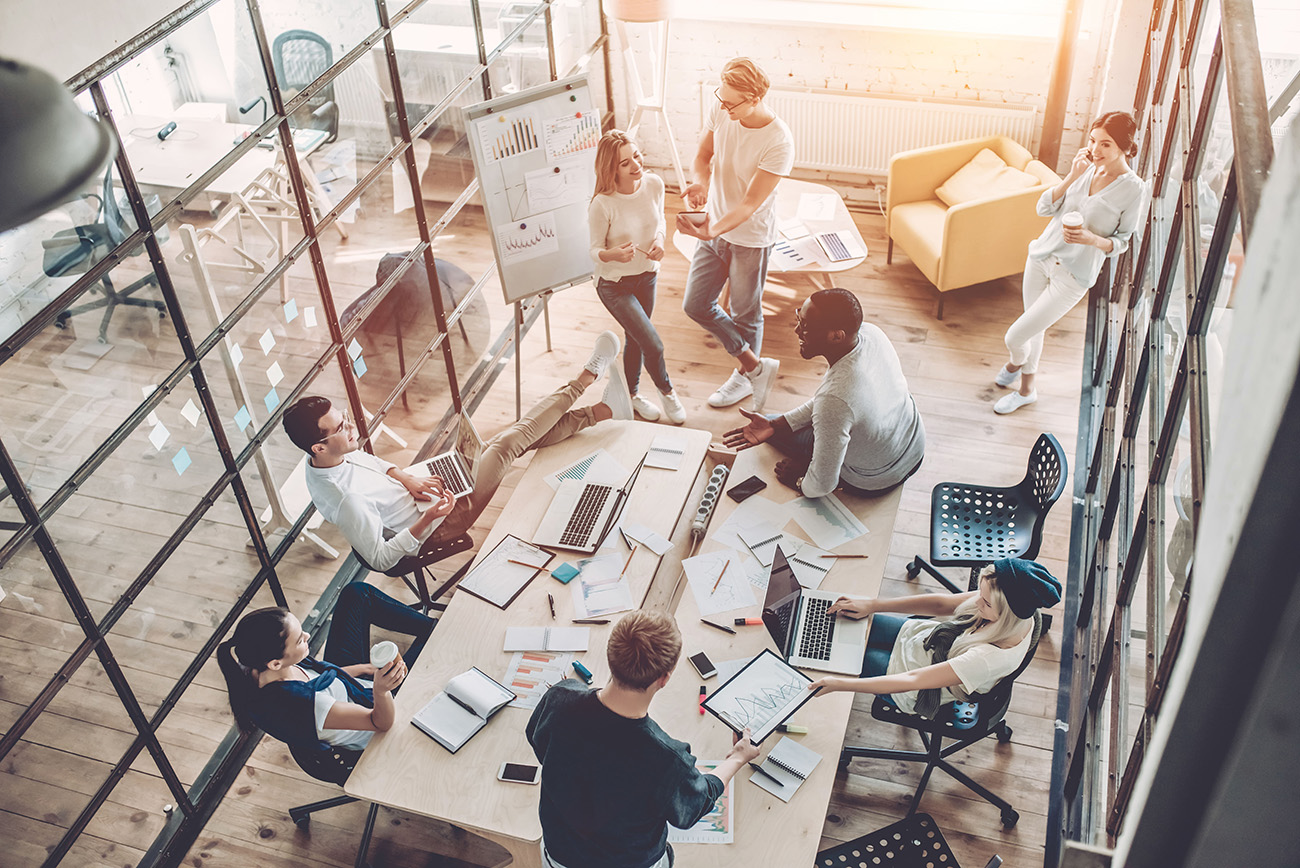 First off, why's it so important to splash out on a fancy office space anyway...?
Well… Given that the average worker spends a total of around 50% of their waking day in the office on an average work day, it's fair to say that we all spend a fair amount of our lives slaving away at our desks. So why is it that the majority of us consider our houses and homes to be the more important space when it comes to our health and wellbeing?
While of course our homes are the space that we can really make our own, and where we can relax away from the stresses and strains of daily lives, the office space is sometimes forgotten in this equation. Many employees simply take it for granted that a work space shouldn't be a comfortable or enjoyable to be around, and many employers clearly feel the same.
Isn't it time to banish the flimsy 10-year-old swivel chairs, add some colour, light and fun to your office design, and to revive (or preferably replace) that tired looking pot plant in the office kitchen?  
Here's 5 ways digital signage can help improve your office environment
1. A video wall
A video wall is a dramatic and instantly eye-catching and bold move for any office looking to make an impact. A video wall is a fantastic option for office reception areas where you can make an instant impact on anyone visiting your premises. If you've got a new product going live soon, or there's been an exciting new development within the business, a video wall is a great way to show this off and really give it the wow factor.
Check out these amazing examples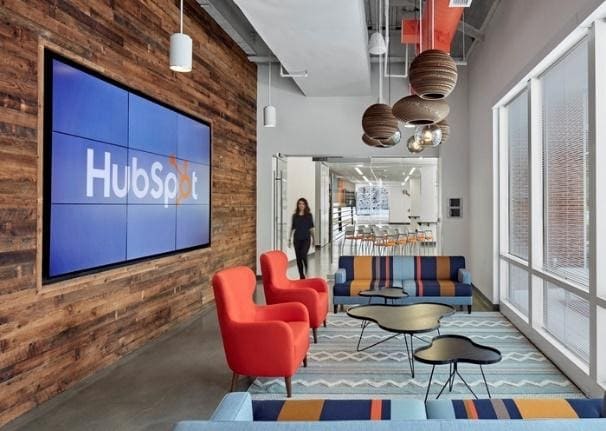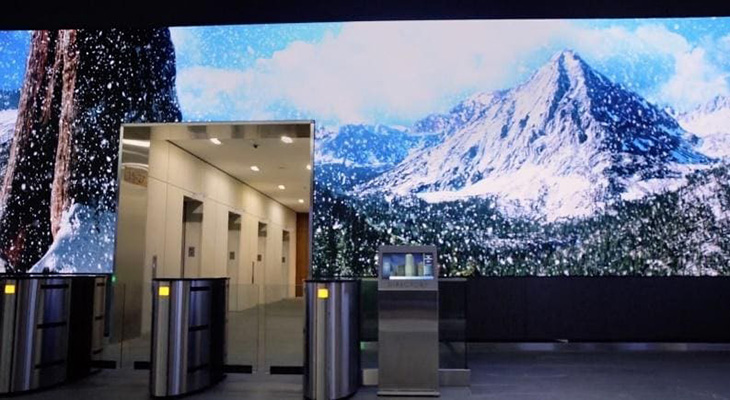 2. Be more functional
Digital screens can be connected to virtually any piece of software. Run a more efficient and streamlined office by letting your screens do the work for you. 
Want to book a meeting room? Connect up your meeting app with screens outside your meeting rooms and staff and visitors can both book a room and see when the next available time slot will be. Want to keep a track of clock in and out times? Simply connect up your HR app and you can allow users to sign out by simply using their phones. Creative office spaces needn't sacrifice on functionality - the two should go hand in hand!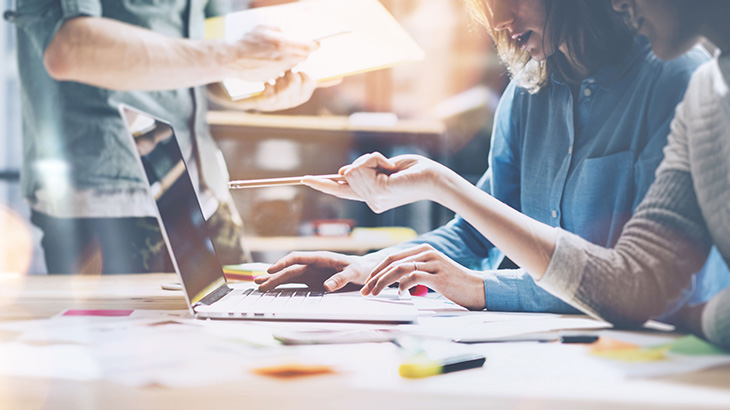 3. Be Intelligent & Interactive
Here's the really fun stuff!
By connecting your digital signage up with intelligent apps and software you can do all kinds of exciting things! Let your employees and visitors play games via their mobiles, give a personal greeting with facial recognition apps or boil the kettle and have your digital signage brew you a speciality coffee? The possibilities are endless... Who said your office couldn't be fun!
4. Boost employee engagement
Digital signage and screens are a great way to get your employees engaged and interacting with what's going on in the office. You may have an important internal message to communicate to all staff, maybe there's a charity event that you want everyone to get involved with and sign up for, or it could be that you want to recognise particular team members or departments by publicly acknowledging their hard work and success on one of your digital screens.
Whatever it is, there's plenty of scope to really increase employee satisfaction and engagement across the business with tailored messaging displayed on screens dotted all around your office space.
5. Bring your reports to life
By displaying real-time and live reports as well as intelligent and drilled down information presented in a clear and understandable way you can really let everyone know exactly what is going on in the business at any given time. Push your staff on to reach those milestones by visualising the path for them.
Implementing interactive digital signage in your meeting rooms will also help no end with improving the efficiency of your meetings. Get to the business critical data and information quickly and easily with interactive digital signage.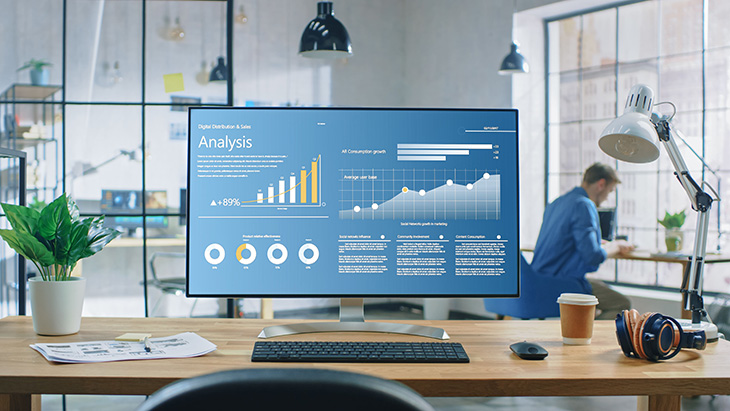 So could your office space benefit from a revamp?
The answer… Absolutely yes! 
Now we're not saying that you need to have to implement a Google-style approach to your office, complete with jungle, beach volleyball, climbing walls or revolving bookcases like some of Google's offices around the world, but yes you should definitely consider do whatever you can to try and improve your workspace for everyone within your organisation's sake. 
And here's why...
When asked a whopping 93% of workers in the tech industry said they would stay longer at a company who would offer healthier workspace benefits. 
This included options ranging from wellness rooms, company fitness benefits, sit-stands, healthy lunch options and ergonomic seating. So why is it that so many employers are slow to catch up on the importance of creative office spaces?
After all, aside from it simply being the right thing to do, to reward your employees for all their hard work and effort, giving your workers a better designed office space or a more fun office space has also been proven to increase productivity. In the UK in particular we are lagging behind in regards to employee productivity. 
In 2015 the United Kingdom was 15.9 percentage points below the average for the rest of the G7 advanced economies.
And when tested out in practice, focusing on employee satisfaction in the workplace has proven to have a genuinely positive impact on productivity. 
In a case study example of an organisation that changed its focus to skills and abilities (e.g. training on safety and communication), motivation (e.g. reward-based management) and job design saw both an improvement in job satisfaction by +8% and an even bigger impact on productivity by +14%.  
So, far from being an extravagance, whether it's a little touch up or a complete overhaul, a rethink of your office space or a little creativity in your office design is a wise move for any business savvy individual looking to improve their bottom line.